How to Recall Email in Outlook Mac – Here's a Workaround That Works!
Key Takeaway
Outlook for Mac does not support the feature to recall an email. However, an excellent alternative exists – the 'Undo Send' feature, strategizing a function similar to 'recall email in Outlook Mac'. This useful feature can be enabled by navigating to Settings, Compose, and then setting a grace period (e.g., 20 seconds) for 'Undo Send'. Following these steps ensures that an 'Undo Send' option appears for 20 seconds after an email is sent. This option allows you to retract your sent email, moving it back to draft mode.
Introduction
Have you ever wished you could recall an email after hitting that dreaded "Send" button on Outlook for Mac? We've all experienced those moments of panic when a crucial message contains an embarrassing typo or ends up in the wrong recipient's inbox. But here's the catch: the native "recall email" feature is missing in the Outlook app for Mac 😢. It's frustrating, right? However, don't lose hope just yet!
In this blog post, we'll unveil a clever workaround that can help you recall email on Outlook for Mac (though this method has one small limitation). Get ready to discover a solution that will empower you to regain control over your emails and avoid those heart-stopping moments. It's time to learn the secret to successfully recalling emails on Outlook for Mac!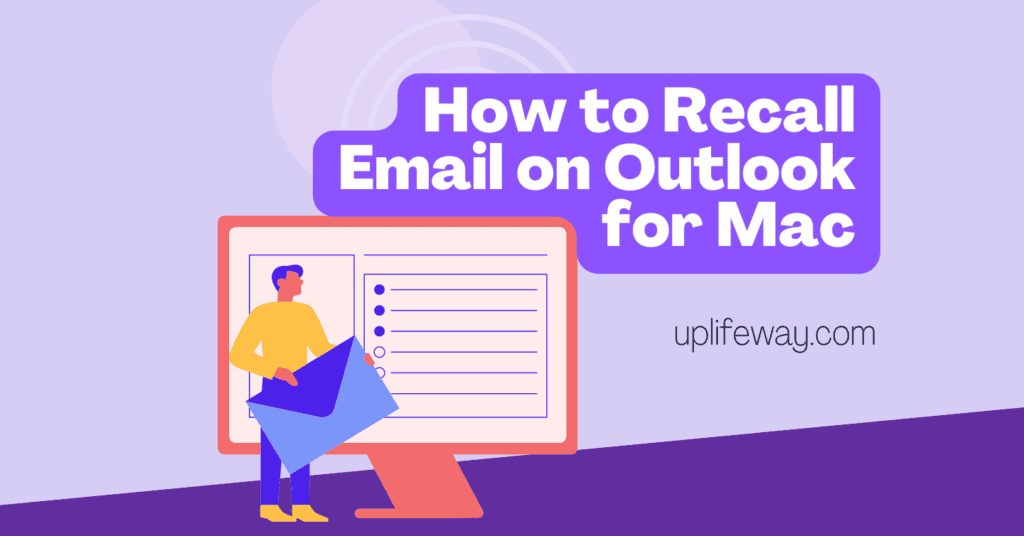 Understanding The Email Recall Feature and Its Importance
Let me explain if you're unfamiliar with Outlook's "Recall email" feature. It's a cool feature that lets you take back an email you've already sent. It's super helpful because it helps you fix any mistakes or inappropriate content you might have accidentally included. You can imagine how handy that can be for saving your professional reputation!

Unfortunately, this awesome feature is only available on the Outlook desktop app for Windows, not on Mac. Here's Microsoft's official statement on recalling email in Outlook Mac.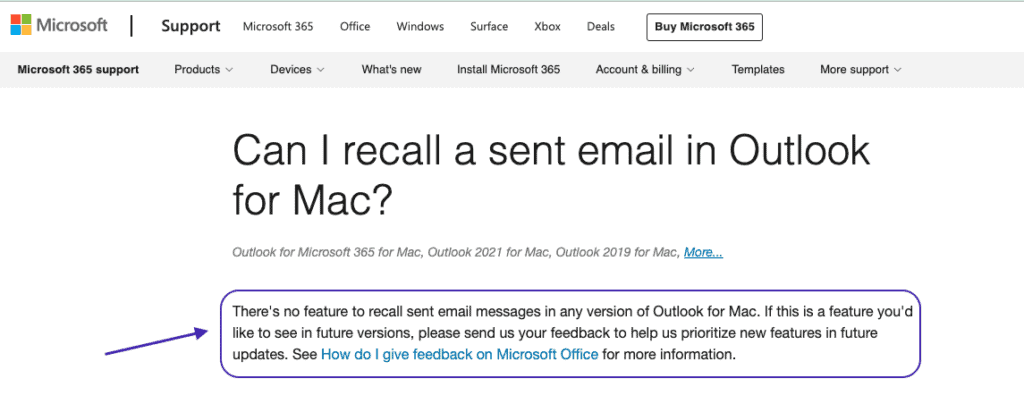 But don't worry! We've got a workaround that's almost as good (it does have one limitation). Stick around as we dive into this alternative solution and show you how to regain control over your sent emails.
For Outlook calendar tips, read BCC in Outlook calendar invite: 2 proven methods for privacy
'Undo Send' – An Alternative to Recall Email in Outlook Mac
You can use the 'Undo Send' option in Outlook for Mac as an alternative to the Recall this message feature. But you would need to enable this option first. To enable the 'Undo Send' option follow the steps below:
Step 1
Go to the Settings.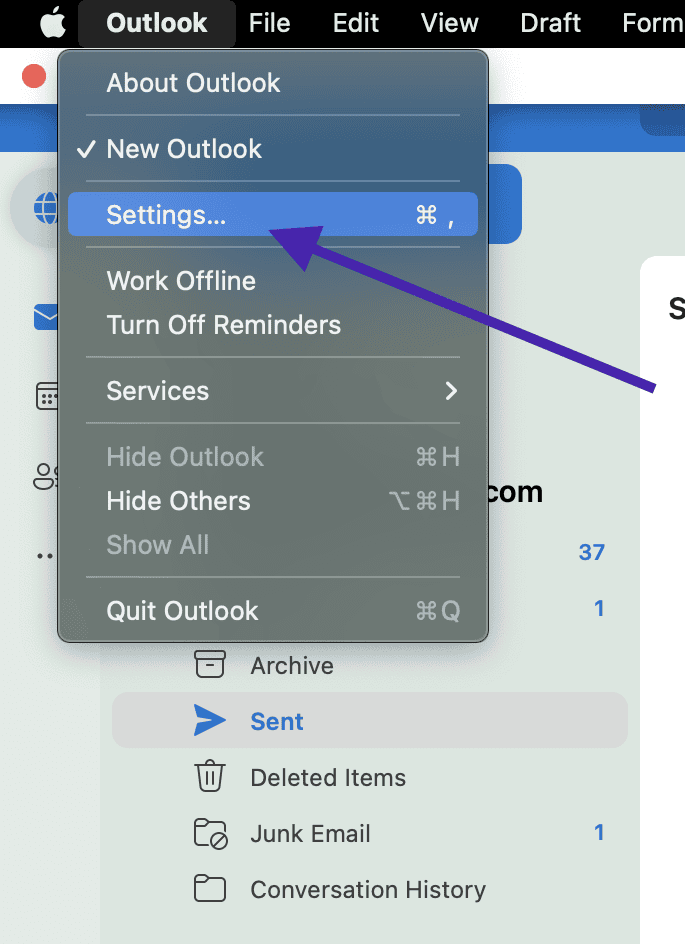 Step 2
Choose the 'Compose' option from the settings menu.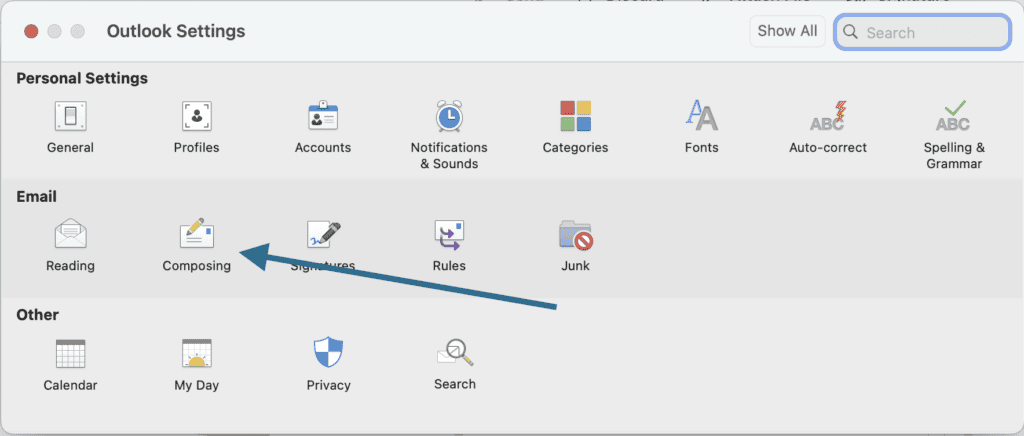 Step 3
From the 'Undo Sent' option, select the grace period. The maximum grace period that can be set is 20 seconds.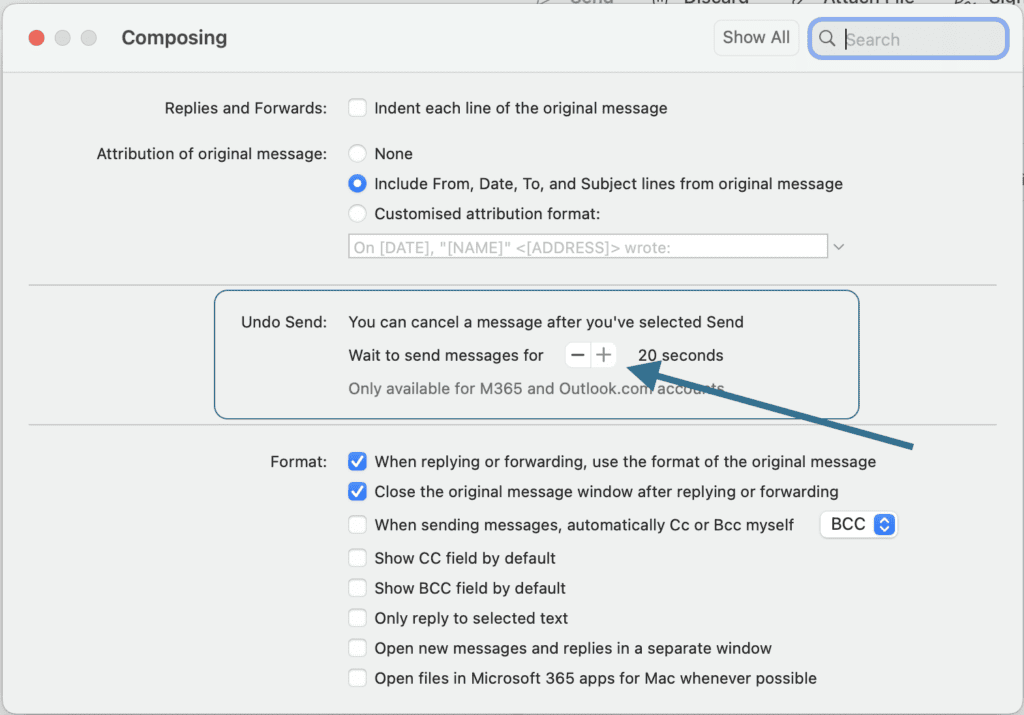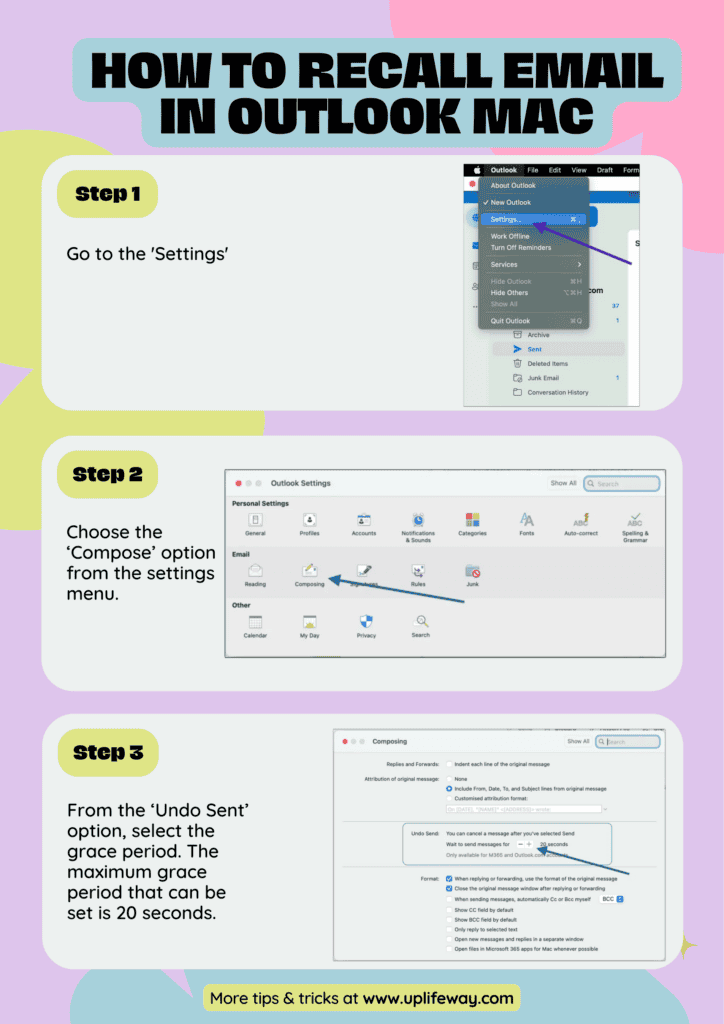 After completing the setup process, you'll notice an "Undo" button at the bottom of the window every time you send an email. This button will remain available for the grace period you configured earlier. By clicking the undo button, the message will be recalled, and you'll be taken back to the draft version. From there, you can make any necessary changes and send it again.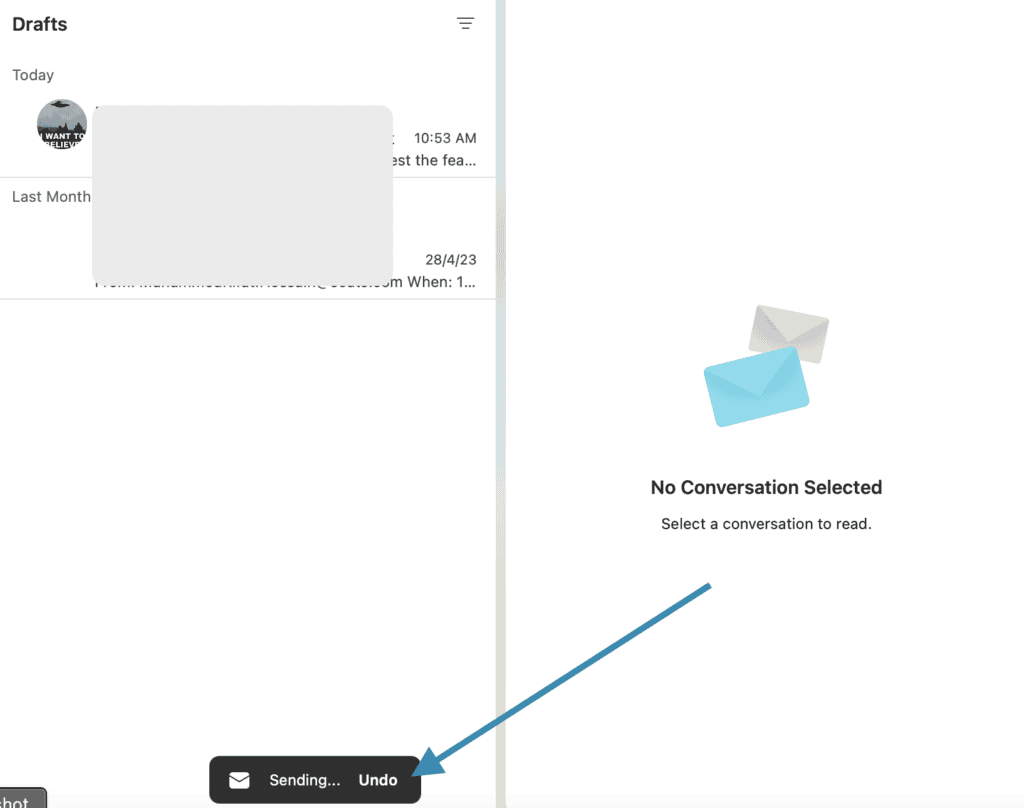 Not a great reader? Watch a video tutorial instead!
Also, read Outlook shared calendar not showing issue: 3 possible reasons & their solutions.
Limitations of Undo Send Compared to Recall This Message
While the Undo Send option can help, it has a major limitation. It can only recall a message within a short time limit of 20 seconds at most. Once that time is up, you won't be able to recall the message anymore.
This limitation is quite strict compared to Outlook's recall message feature, which lets you recall any email until the recipient reads it.
Alternative Steps if Recall or Undo Send Fails
If you discover mistakes after the 20-second grace period for undoing a sent email has passed, don't worry! It's not the end of the world. There are still alternatives you can consider to make things right. Check out the options mentioned below:
Apologize: Send a follow-up email acknowledging the mistake and apologizing for any inconvenience caused.
Reply with necessary corrections: Provide any necessary clarifications or corrections to the recipients with a reply on the same email loop.
Learn from Mistakes: Take the opportunity to learn from the error and implement measures to prevent similar mistakes in the future.
Preventing Mistakes in Emails
While email recall is helpful, prevention is always better than cure. Here are some tips to help you avoid mistakes in your emails:
Review Before Sending: Always proofread your emails before hitting the send button.
Use Spell Checkers: Utilize the built-in spell checkers to catch any spelling or grammatical errors. There are tools like Grammarly that can help you with this.
Double-Check Recipients: Verify that you've selected the correct recipients to avoid sending emails to the wrong people.
Pause and Reflect: Take a moment to pause and review your email content, ensuring it conveys the intended message and tone.
Use Templates: Utilize email templates for frequently sent messages to minimize the chances of errors.
Get a Second Opinion: If it's a critical email, consider asking a colleague or friend to review it before sending it.
Final Words
Finally, if we are not satisfied with the workaround and rather want the native Mac Outlook recall message feature, we can give our feedback to Microsoft.
In the world of email communication, mistakes happen, but Outlook's email recall feature gives you a chance to rectify those mistakes and protect your reputation. Though Outlook for Mac doesn't have this feature, it has an alternative that can help. Following the steps outlined in this article, you can take control of your email blunders, fix errors, and restore your professional image. Remember, prevention is key, so take the necessary precautions to avoid mistakes in the first place.
FAQ
How to recall Outlook email on Mac?
Unfortunately, the "recall this message" feature is only available on the Outlook desktop app for Windows, not on Mac. However, there is a workaround that is almost as good, although it does have one limitation. On Outlook for Mac, you can undo sending a message within a 20-second window after it has been sent. To enable this option, you need to go to Settings > Composing > Undo Send.
How to unsend an email in Outlook Mac?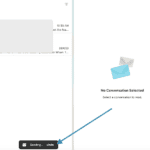 You need to enable this option first from Settings > Composing > Undo Send and apply a grace period (20 seconds is the max). Then after sending each email from your Outlook on Mac, you will find an 'Undo' option (as shown in the image) to redact the email.
Hello! Welcome to UplifeWay.com, where I, Rifat Hossain, share my zeal for all things tech. With an academic foundation in Advanced Engineering Management and my current role as a Digital Services Manager at Coats, I've gained a unique perspective on technology in the professional landscape. My expertise with Microsoft 365 products, fortified by my certification as a trainer, has shown me the transformative power of the right tools in boosting efficiency and productivity. Driven by a desire to empower others to fully utilize technology, I established UplifeWay.com. This blog is more than a resource—it's a beacon for those eager to master Microsoft Office applications and improve their digital literacy. UplifeWay.com is a testament to my dedication to promoting 'smart working'. I invite you to embark on this exciting exploration with me, where we'll elevate our working prowess to unprecedented levels. Let's journey into the world of smart productivity together on UplifeWay.com.