The Cost of Procrastination is the Life You Could've Lived: Delayed Tasks Derailing Your Career in 5 Ways
Key Takeaway
This intriguing article explores how procrastination can greatly impact your life, derail your goals, and lead to regrets. It also provides practical strategies to overcome procrastination. Learn how to reclaim control over your time and live a more fulfilling life today. Don't let the cost of procrastination rob you of your dreams and aspirations.
Introduction
Have you ever found yourself procrastinating on an important task or deadline, only to regret it later when the consequences start to pile up? We've all been there, but many of us don't realize how harmful procrastination can be for our personal and professional lives. The cost of procrastination is not just a matter of missed deadlines and incomplete tasks – it's the life you could've lived and the career opportunities you could've had.
So, if you feel procrastination is ruining your life, this article is for you. In this blog post, we'll explore the impact of procrastination on our personal and professional lives and why taking control of our procrastination habits is important to avoid the costly consequences. So, let's dive in and learn how delayed tasks caused by procrastination can derail your career and how you can start acting to live the life you want.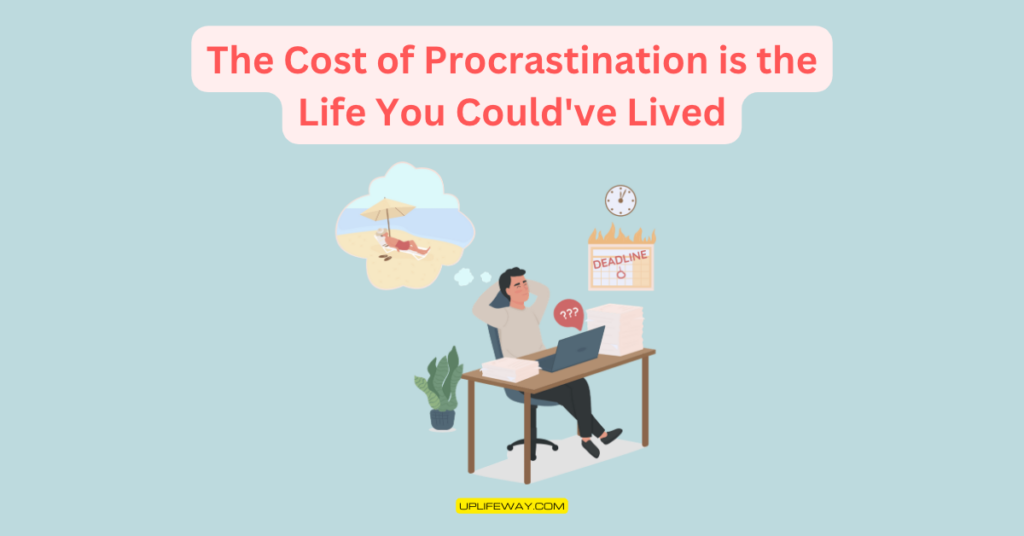 The Cost of Procrastination on a Professional's Life
Procrastination can be a major obstacle for professionals on their way to success. It is an all-too-common problem that can significantly impede progress and limit opportunities. The following are some harmful impacts of procrastination on your professional or work life.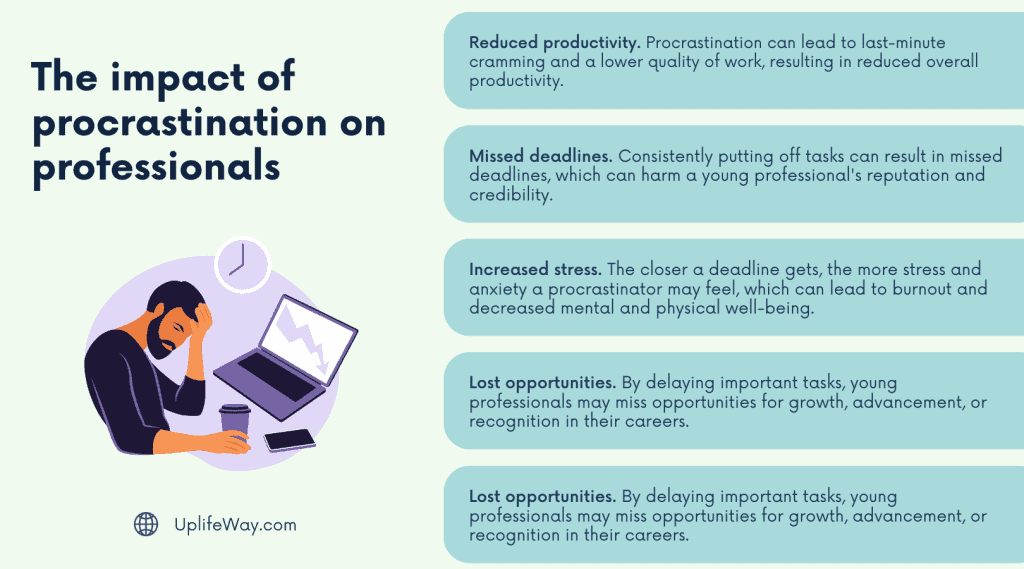 Reduced productivity: Procrastination can lead to last-minute cramming and a lower quality of work, resulting in reduced overall productivity.
Missed deadlines: Consistently putting off tasks can result in missed deadlines, damaging your reputation and credibility.
Increased stress: The closer a deadline gets, the more stress and anxiety a procrastinator may feel, leading to burnout and decreased mental and physical well-being.
Lost opportunities: By delaying important tasks, professionals may miss opportunities for growth, advancement, or career recognition.
Decreased self-esteem: Chronic procrastination can lead to feelings of shame, guilt, and low self-esteem, which can negatively impact overall mental health.
The harmful impacts of procrastination on a professional's life can be significant and far-reaching. Reduced productivity, missed deadlines, increased stress, lost opportunities, and decreased self-esteem are just some of the costs that can be incurred. However, if you are a sufferer of this habit, recognize the problem and take steps today to overcome it before it worsens. You can lead to a more fulfilling and successful professional life.
Recommended Reading: From Delay to Results: 9 Scientific Ways to Overcome Laziness and Procrastination
The Cost of Procrastination on Personal & Family Life
The adverse effect of procrastination is not limited to the work-life only. It can hurt our personal and family lives, causing unnecessary stress, missed opportunities, and a lack of fulfillment. Many people have a feeling 'procrastination is ruining my life'! Let's take a closer look at how procrastination can impact our personal and family lives.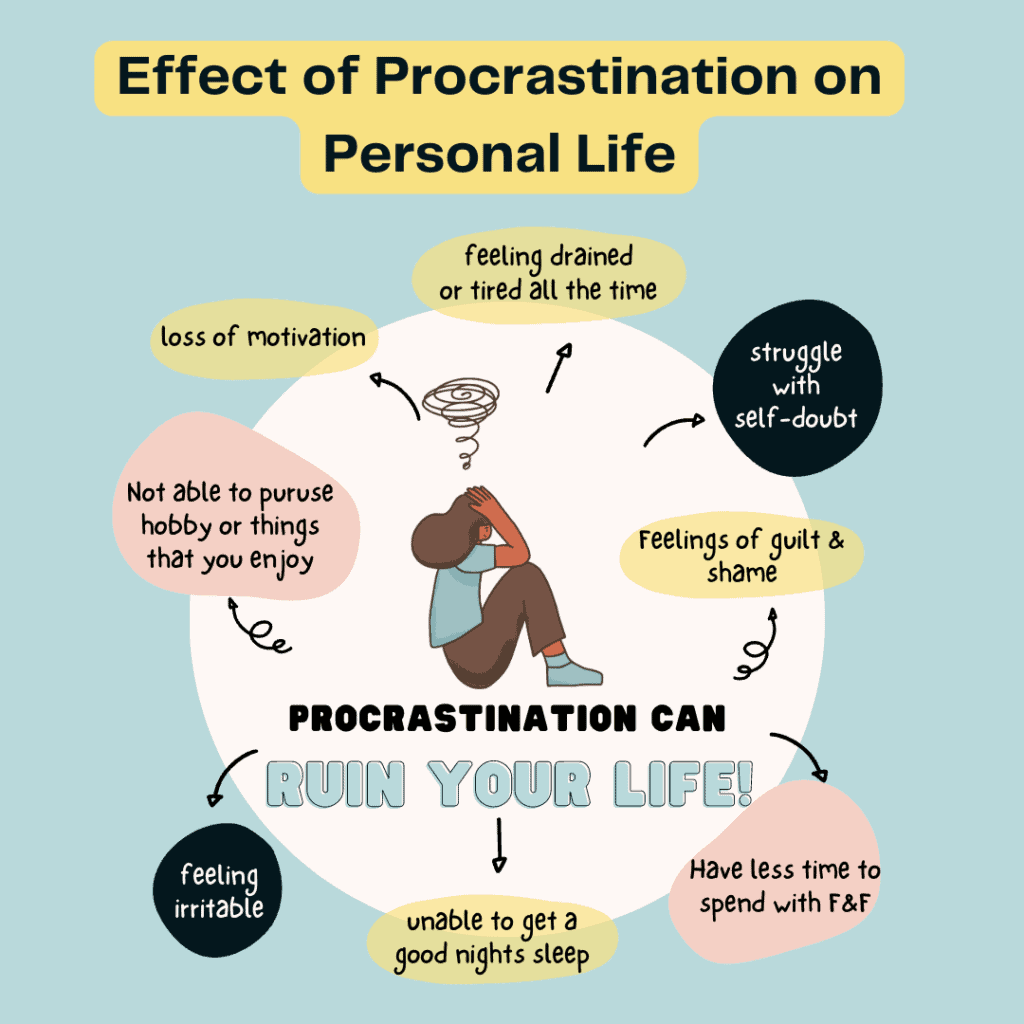 Procrastination can cause missed opportunities for personal growth and development, costing you the life you could've lived and dreamed of.
Delayed tasks can cause stress, anxiety, and frustration, negatively impacting our relationships with family and friends.
Delayed tasks can force you to work longer hours, preventing you from pursuing hobbies or spending quality time with loved ones.
Feelings of guilt and shame associated with procrastination can lower our self-esteem and confidence, making it harder for us to enjoy our personal lives and connect with our families.
In a nutshell, when procrastination is out of control, it can have a domino effect on our personal and family lives, leading to a decreased quality of life and missed experiences with loved ones. It's important to recognize the negative impacts of procrastination on our personal and family lives to take action to overcome it. By making small changes to our habits and mindset, we can avoid the costs of procrastination and start enjoying fulfilling personal lives with our loved ones.
Hello! Welcome to UplifeWay.com, where I, Rifat Hossain, share my zeal for all things tech. With an academic foundation in Advanced Engineering Management and my current role as a Digital Services Manager at Coats, I've gained a unique perspective on technology in the professional landscape. My expertise with Microsoft 365 products, fortified by my certification as a trainer, has shown me the transformative power of the right tools in boosting efficiency and productivity. Driven by a desire to empower others to fully utilize technology, I established UplifeWay.com. This blog is more than a resource—it's a beacon for those eager to master Microsoft Office applications and improve their digital literacy. UplifeWay.com is a testament to my dedication to promoting 'smart working'. I invite you to embark on this exciting exploration with me, where we'll elevate our working prowess to unprecedented levels. Let's journey into the world of smart productivity together on UplifeWay.com.