How to Send a Gentle Reminder Email to Boss for Approval | 6 Easy-to-follow Tips
Key Takeaway
The key to writing a gentle reminder email to the boss for approval is to ensure your tone is polite and professional. Begin the email by formally addressing your boss and explaining why you're sending the reminder. Be sure to let them know that you need their approval or input on something and that, if possible, you'd like them to respond as soon as possible. Thank them for their consideration in advance, and make sure to mention any deadlines associated with their response. Close the email with a polite sign-off such as "Sincerely" or "Best Regards" followed by your name.
Introduction
So, you've worked hard on that project for weeks, and it's finally ready for your boss to sign off. Or, you need to take time off, and your boss has to approve. But you've been chasing them for days, and it seems they'll never give you the "yes" you're waiting for. Don't worry; I know what to do! In this blog post, I'll show you how to write a reminder email that your boss will quickly approve. Come along as we explore how to nudge tactfully.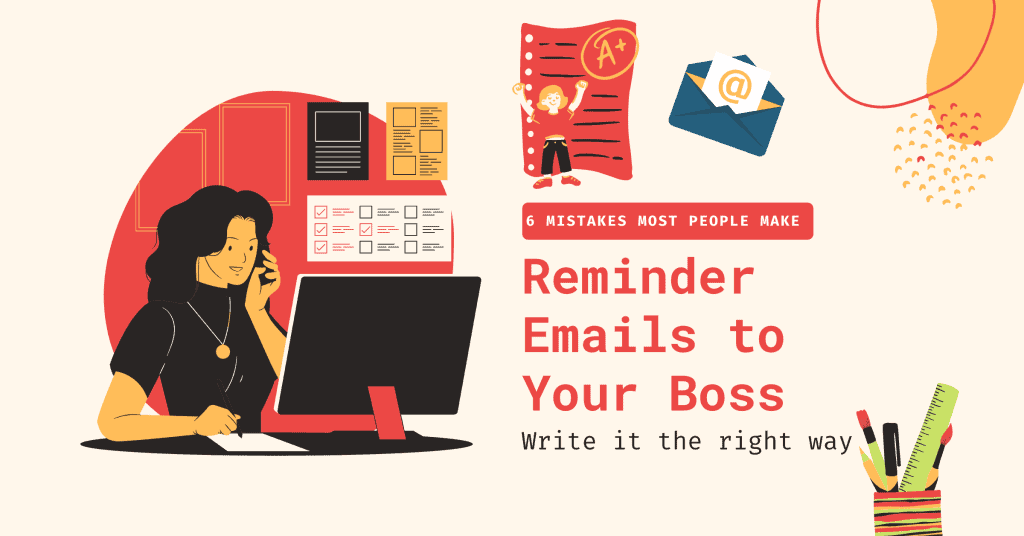 What is a Gentle Reminder Email?
A gentle reminder email is a professional reminder without causing offense. It's an essential skill to master, especially if you must keep track of deadlines and ensure that your boss approves tasks on time. Crafting a compelling, polite reminder email can be tricky, but some tips and tricks can help. So, if you are wondering how do I send a gentle reminder email to my boss, I am here to guide you!
How Gentle Reminder Emails to Boss Can Help?
Email is a quick and easy way to get a message across. But it doesn't always work the first time. It was found in a study by Adobe that 70% of employees read emails while they are watching television. So it's likely that they'll forget some things. In many situations, it's helpful to send a polite reminder email. Sending your boss a friendly email to remind them is no different. A gentle reminder email can save you time and be a polite way to get your boss to respond to a request for approval or do what needs to be done on an important task or project.
The benefits of sending a gentle reminder email include the following:
Gaining Direct Access: Email gives you direct access to your manager, so you can quickly get their attention and get answers to your questions without waiting for them to meet in person.
Creating Accountability: Both parties will have an electronic record of the communication and an appropriate timeline for response or approval.
Saving Time and Money: You don't have to wait days for a good time to meet in person. Instead, you can communicate and share information in minutes instead of hours or days if the problem isn't solved. This saves time and money for the company because projects and tasks can be done faster and better from the start.
When It's Necessary to Send a Reminder Email [With Examples]
How to send a gentle reminder email to boss for promotion
Sometimes, reminder emails to the boss for a promotion can be necessary. It helps to remind the manager of their commitment sometime earlier. Managers are often busy with different things. They have to keep track of several team members, and sometimes they forget what they promised to do. In this situation, a gentle email reminding the boss of your accomplishments and letting him or her know that you are being considered for a promotion is helpful.
Reminder message to boss sample (for promotion):
Dear [Boss],

I hope this message finds you well. I am writing to remind you that I am due for a promotion, as per our discussion a few months ago.

I have been with the company for three years now, and in that time, I have taken on increasingly more responsibility and have made significant contributions to our team. I have consistently worked hard and excelled in my role, and I am confident I have earned the promotion we discussed.

I understand that you are busy, and may be other matters to consider, but I hope you will take the time to reevaluate my position and consider promoting me. I believe that this promotion will benefit not only me but the company as well.

Thank you for your time and consideration.

Sincerely,

[Your Name]
How to send a gentle reminder email to manager for salary increment
By sending a reminder email to your manager for a salary increment, you can help ensure that your boss knows your desire for a salary increase and that the conversation is still on the table. It can also help keep the conversation alive and ensure your boss has not forgotten your request. Furthermore, it can allow you to remind your boss of your value to the organization and why you believe you deserve a salary increase.
A gentle reminder to boss sample (for salary increment):
Dear [Manager],

I am humbly writing to request a salary increment review.

I have been an employee at [Company] for [length of time], and in that time, I have consistently gone above and beyond to fulfill my duties and contribute to the success of the company. I have taken on additional projects and have shown initiative in finding ways to improve processes, all of which have resulted in a more efficient and productive workplace.

I am confident that my efforts have contributed to the success and growth of the Company, and I believe that I should be compensated for my hard work and dedication. A salary increase would be greatly appreciated and would give me further incentive to continue to strive for excellence.

Thank you for your time and consideration. I look forward to discussing my request with you.

Sincerely,

[Your Name]
How do you remind your boss for approval of a leave request
A reminder email to the boss for leave approval can help in several ways. It serves as a reminder to the boss that a request for leave has been made and that they need to respond to it. It can also remind the boss of the importance of granting the leave (as well as the potential consequences, e.g., a decline in the employee morale of not doing so). Additionally, it can help demonstrate the employee's commitment to their job and respect for their boss.
Gentle reminder email to boss for approval sample (for leave request):
Dear [Manager],

As discussed with you earlier, I am writing to request a leave of absence from [date] to [date].

I have already completed most of the tasks in hand and handed over a few outstanding items to [Coworker]. I am confident that my absence will not cause any disruption to the team's progress. Furthermore, if I am needed for any emergency, I will be available on WhatsApp.

I appreciate your consideration of my request and look forward to hearing from you soon.

Sincerely,

[Your Name]
HR Cabin shares many templates of gentle reminder emails to the boss.
The Recipe of Crafting A Gentle Reminder Email to Boss That Works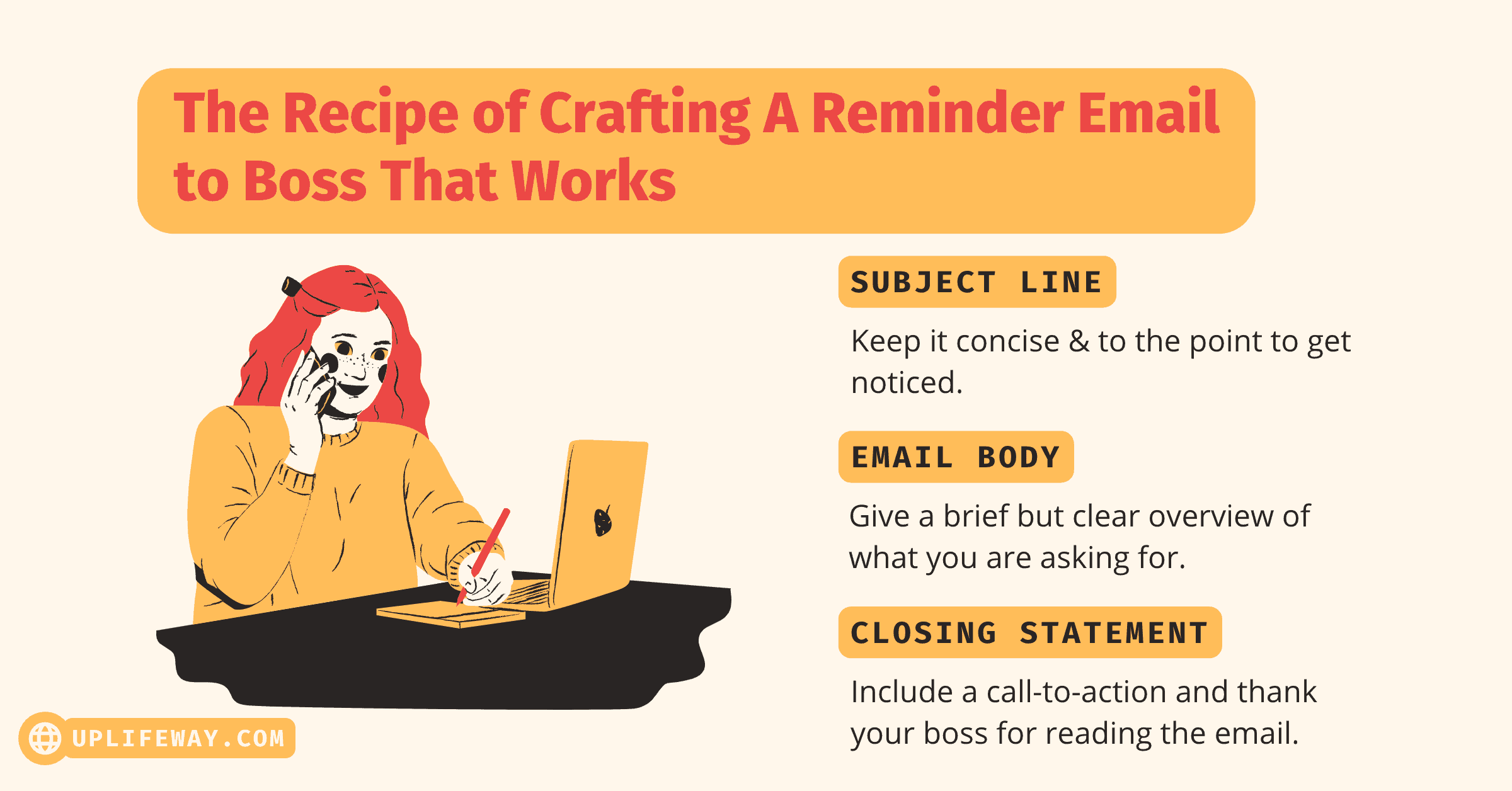 Subject line (Most important)
When crafting the subject line of your gentle reminder email, it is essential to keep it concise and relevant. Make sure to include a reference to the task you need approval on and clearly state what action you are looking for.
For example: "Request for Review – [Project Name], or Follow-up Request on [Task Name]". This will help your boss quickly understand the message and make it easier for them to respond promptly.
Additionally, be sure to use polite language when writing your subject line. Words like "please" or "kindly" can make all the difference in ensuring your email is respectful and professional.
This article on how to write an effective subject line in a business letter (professional email) with examples will help you.
The body of the email (Your key message)
In the email body, it is essential to start by greeting your boss. This helps to create a tone of respect for the conversation and ensure that your boss knows you are treating them as a professional. Then, give a brief but clear overview of your request. You should provide background information as necessary but do not overwhelm your recipient with too many additional details or excess wording. Keep it clear and concise.
Recommended reading:
How To Keep Your Emails Concise And To The Point | 10 Must-know Tips for Young Professionals!
Include the request in this section of the body as well, so you can be sure they know exactly what you need. Avoid being overly wordy, and express gratitude for them taking their time to consider your request before signing off on your email. Be sure to thank them again at the end of the email as a closing gesture.
Close your message
To close the email, it is essential to include a call-to-action and thank your supervisor for taking the time to read your email. A typical conclusion for a reminder email could look like this:
"I look forward to your response as soon as possible so that I can move forward with this project/task/approval. Thank you for your attention and consideration.

If you require additional information or have questions, please don't hesitate to reach out."
Recommended reading:
How To Improve Business Email Writing Skills | 7 Tips to Make Your Email Communication More Effective
Not a great reader? Watch this 2 min video instead!
6 Tips on Writing A Gentle Reminder Email To Your Boss
Writing a gentle reminder to your boss for approval can be tricky, as you don't want to look pushy or aggressive. However, you can follow some essential tips and strategies to get your job done with a polite and compelling message.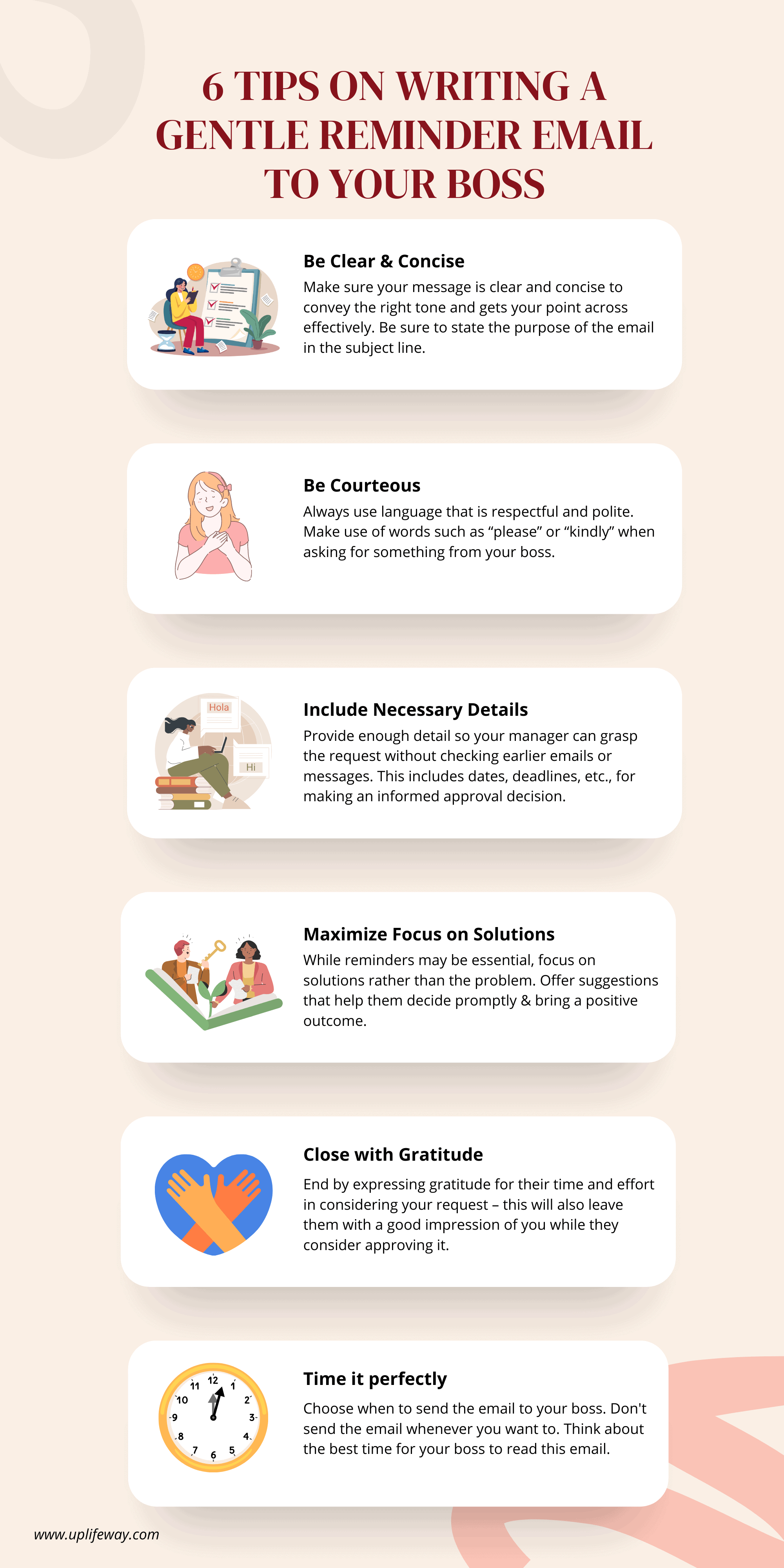 When writing a gentle reminder to your boss, here are some things to consider:
Be Clear: Make sure your message is clear and concise to convey the right tone and gets your point across effectively. Be sure to state the purpose of the email in the subject line.
Be Courteous: Always use language that is respectful and polite. Use words such as "please" or "kindly" when asking for something from your boss.
Include Necessary Details: Provide enough information so your boss understands the context of the request without having to refer back to any previous emails or messages. This means including relevant details like dates, deadlines, or other important factors for consideration in making an informed decision about approval.
Maximize Focus on Solutions: While gently reminding may be necessary, focus more on solutions rather than simply reinforcing the problem. Point out possible solutions that may make the work process more efficient and suggest positive outcomes from their approval for them to make an informed decision quickly.
Close with Gratitude: End by expressing gratitude for their time and effort in considering your request – this will also leave them with a good impression of you while they consider approving it.
Time it perfectly: Choose when to send your manager the reminder email. Don't just shoot the email at a time that works for you. Put yourself in your manager's shoes and think about when it would be okay for them to get this email.
6 Common Email Reminder Mistakes – And How To Avoid Them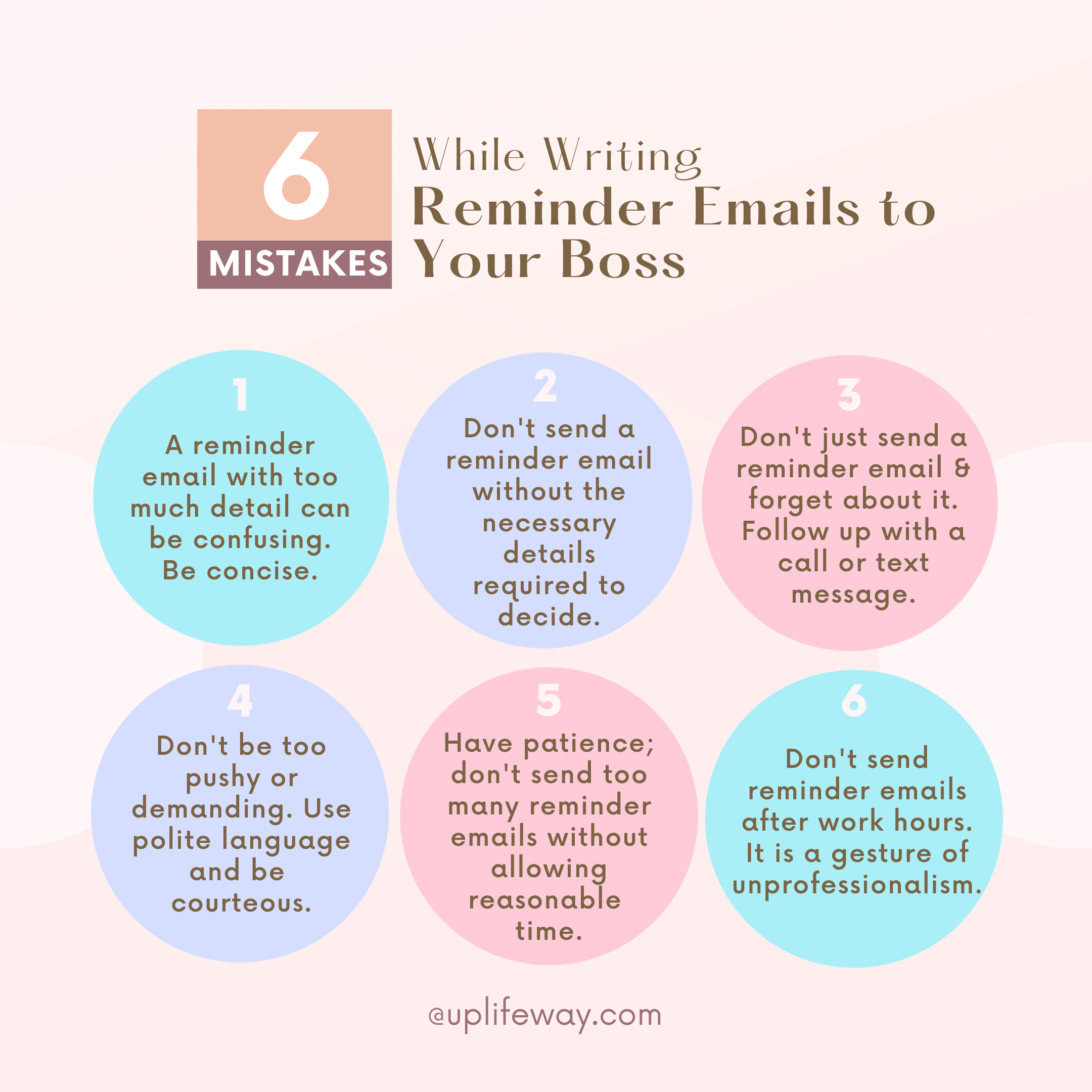 Being aware of common mistakes in a reminder message to your boss is crucial, as they can significantly diminish the chances of success.
Not being concise: Too much detail in a reminder email can overwhelm and lead to confusion. Keep the message short and to the point.
Not providing enough information: When sending a reminder email, include all the necessary information and provide any additional detail that may be helpful to make an informed decision by the manager.
Not following up: Don't just send a reminder email and forget about it. Follow up with a phone call or text message to make sure the recipient is aware of the reminder.
Not being polite: Don't be pushy or demanding when sending a reminder email. Use polite language and be courteous.
Sending too many reminders: After you send the boss a reminder email, you should give them a certain amount of time to think about it and decide. Don't send too many emails and wait. If you wait and don't get what you want, it's always better to talk to your boss directly instead of sending many chain emails.
Sending Reminder emails after work hours: It is a gesture of unprofessionalism. You don't want to bother your boss when he or she has personal time with family. Whatever important email it is, it can wait for the next day.
The Final thought on Sending Gentle Reminder Emails to Boss
Sending your boss a polite reminder email can be an excellent way to keep up with important tasks and ensure deadlines are met. When sending these emails, it's essential to be polite and respectful. If you are too demanding, your boss might think you're rude. Ultimately, it's important to remember that your boss is probably busy and may occasionally need a gentle reminder.
Hello! Welcome to UplifeWay.com, where I, Rifat Hossain, share my zeal for all things tech. With an academic foundation in Advanced Engineering Management and my current role as a Digital Services Manager at Coats, I've gained a unique perspective on technology in the professional landscape. My expertise with Microsoft 365 products, fortified by my certification as a trainer, has shown me the transformative power of the right tools in boosting efficiency and productivity. Driven by a desire to empower others to fully utilize technology, I established UplifeWay.com. This blog is more than a resource—it's a beacon for those eager to master Microsoft Office applications and improve their digital literacy. UplifeWay.com is a testament to my dedication to promoting 'smart working'. I invite you to embark on this exciting exploration with me, where we'll elevate our working prowess to unprecedented levels. Let's journey into the world of smart productivity together on UplifeWay.com.