Outlook Shared Calendar Not Showing Issue: 3 Possible Reasons & Their Solutions
Key Takeaway
The 3 possible reasons for a shared calendar not showing up in Outlook are:
Lack of permissions to view the calendar
The calendar being hidden or
Synchronization issues or connectivity issues.

I'll share the steps to solve the 3 issues, such as checking permissions, enabling the calendar, manually syncing the calendar, and checking connectivity. Additionally, the post provides some troubleshooting tips and suggests contacting Microsoft support if the issue persists. Each troubleshooting includes a video tutorial to make it easy for the reader.
Introduction
Are you having trouble with your Outlook shared calendar not showing? You are not alone. Many people have faced the same issue, and it can be quite frustrating, especially if you are working with a team and need to keep track of schedules and appointments with coworkers. In this article, we will discuss the possible reasons why your Outlook shared calendar is not showing up and how to resolve the issue.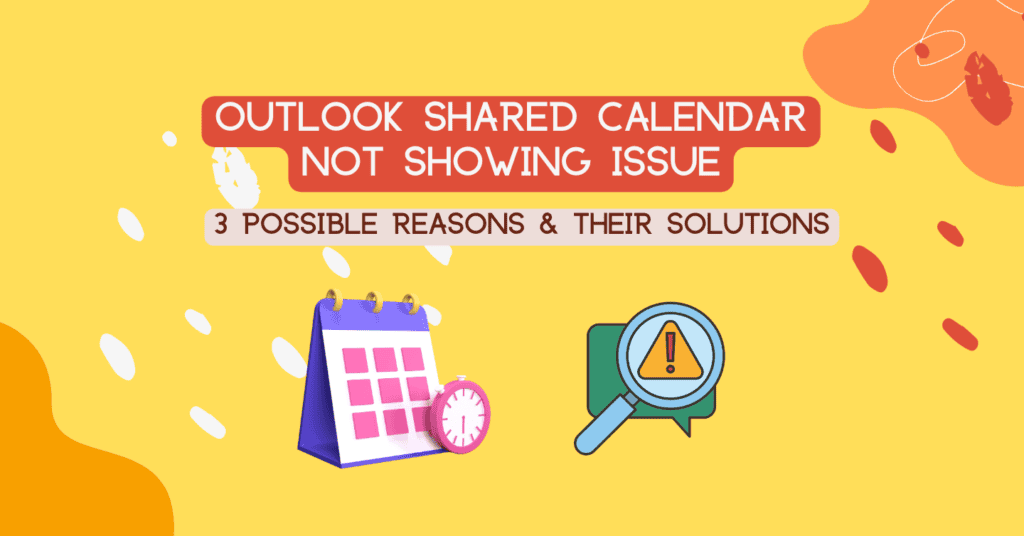 Possible Reasons for Outlook Shared Calendar Not Showing Up & Their Solutions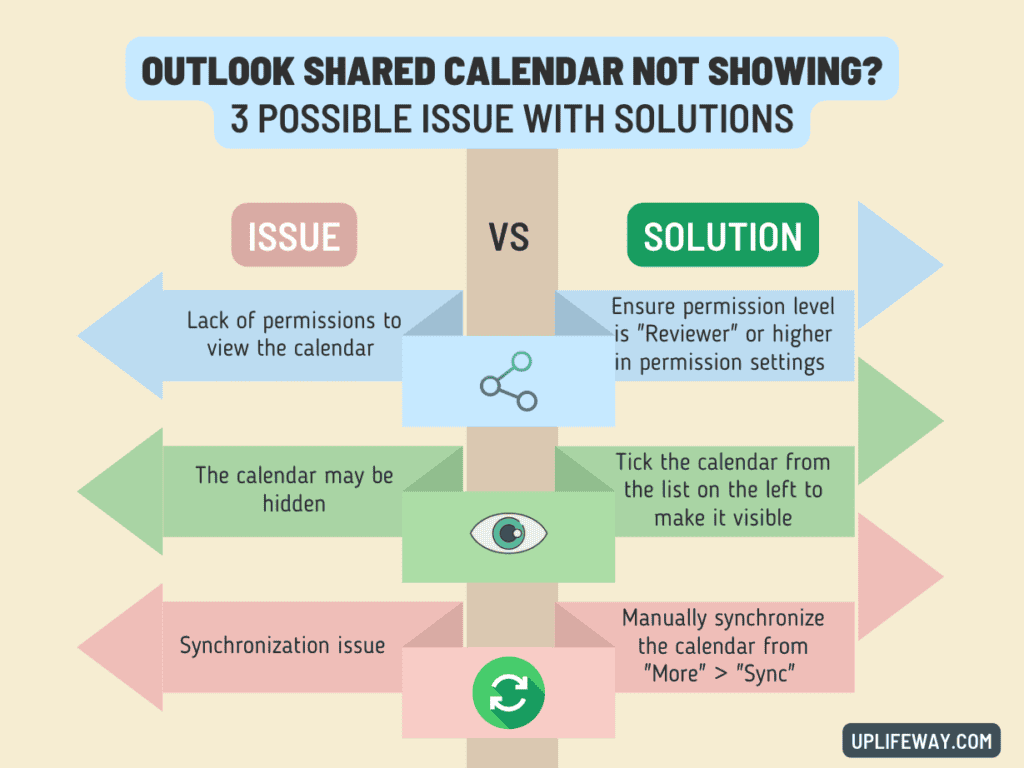 1. Lack of permissions to view the calendar
The most common reason why a shared calendar is not showing up is that you do not have the proper permissions to access it. When the owners share their calendars with someone, they can determine the permission level for the recipients.

If it is already shared, the owner can still check the sharing permission status and ensure they have granted you permission to view it. They can view it by clicking the 3-dot (more options) icon and then selecting 'Sharing Permission'.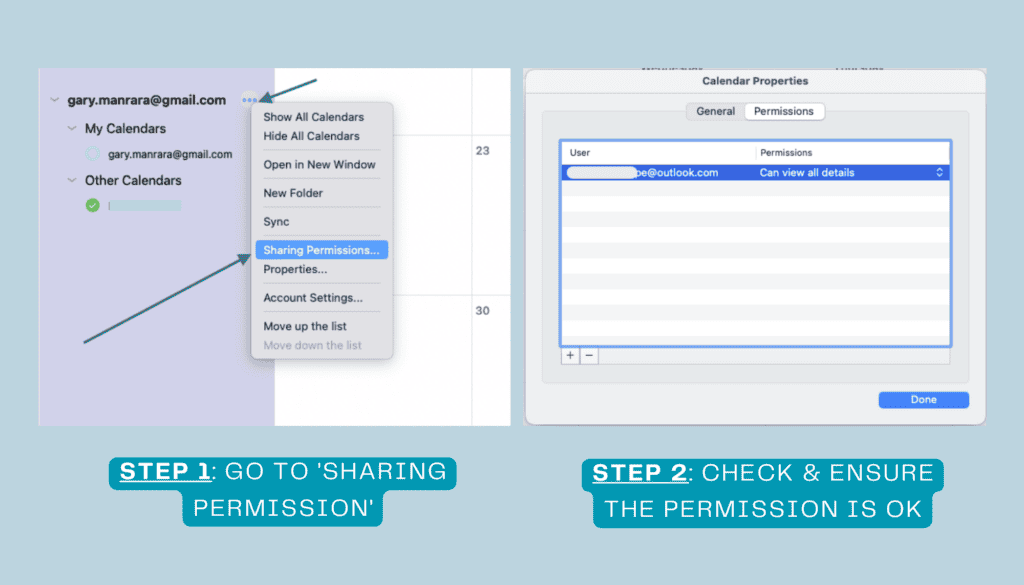 You can check this by right-clicking on the calendar in the navigation pane and selecting "Properties." Then go to the "Permissions" tab to check if your name is on the list and ensure the permission level is "Reviewer" or higher.
Are you wondering how to do BCC in Outlook calendar invites? Check out these 2 Proven Methods for Privacy.
2. The calendar may be hidden
In your Outlook calendar, you can have multiple calendars associated with your account. These calendars can either be owned by you or shared by others with you. The great thing is that only the events from the selected calendars will be visible in the calendar area, making it easier to keep your calendar organized and free from clutter. However, if you come across a situation where a shared calendar is not visible, the first thing to check is whether it is enabled.

Do you know that you can import calendar events into Outlook Calendar? Read this guide with a bonus of a free CSV event upload template.
3. Synchronization issue
Another possible reason why your shared calendar is not showing up is that it is not synchronized correctly. Outlook uses a synchronization process to update the shared calendar data. If the synchronization process is not working correctly, the shared calendar will not appear. You can try manually synchronizing the calendar by clicking the "More" icon and then the "Sync" option from the menu.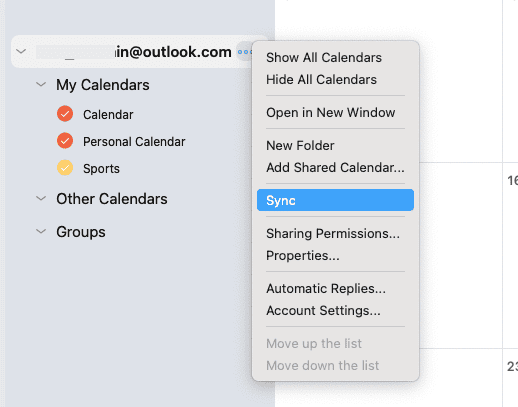 4. Connectivity issue
Finally, it is also possible that the culprit is the data connection! A shared calendar may not be showing up because of connectivity issues. Ensure that you are connected to the internet. If you use a VPN or firewall, ensure it is not blocking Outlook's connection.
Additional Troubleshooting Tips for Shared Calendar Not Showing in Outlook Issue
Here are some additional tips for troubleshooting shared calendar issues in Outlook:
Make sure that you're using the latest version of Outlook.
Try logging out of and back into Outlook.
Try disabling any add-ins that you're using with Outlook. You can enable them later when the issue is fixed.
Try repairing or uninstalling and reinstalling Outlook.
Try restarting your computer.
If you've tried all these troubleshooting steps and still have problems, contact Microsoft support for help.
Conclusion
Shared calendars in Outlook can be a great way to keep track of appointments and events with coworkers. If your Outlook shared calendar is not showing up, it can be frustrating and may cause disruptions in your work. However, with the above troubleshooting steps, you should be able to solve the sharing issue and regain visibility of your shared calendar, ensuring seamless collaboration and efficient scheduling.
Hello! Welcome to UplifeWay.com, where I, Rifat Hossain, share my zeal for all things tech. With an academic foundation in Advanced Engineering Management and my current role as a Digital Services Manager at Coats, I've gained a unique perspective on technology in the professional landscape. My expertise with Microsoft 365 products, fortified by my certification as a trainer, has shown me the transformative power of the right tools in boosting efficiency and productivity. Driven by a desire to empower others to fully utilize technology, I established UplifeWay.com. This blog is more than a resource—it's a beacon for those eager to master Microsoft Office applications and improve their digital literacy. UplifeWay.com is a testament to my dedication to promoting 'smart working'. I invite you to embark on this exciting exploration with me, where we'll elevate our working prowess to unprecedented levels. Let's journey into the world of smart productivity together on UplifeWay.com.