OneNote Find and Replace: Simplify Your Editing Process with this Step-by-Step Guide
Key Takeaway
Users have long desired a Find and Replace functionality in OneNote, but unfortunately, it lacks a built-in feature. However, there's a workaround available to achieve the same result. This comprehensive step-by-step guide, accompanied by a video tutorial, will assist you in learning the workaround and leveraging the Find and Replace capability in OneNote effectively.
Introduction
OneNote is a versatile note-taking application that allows users to create and organize digital notebooks. Whether you're a student, professional, or simply someone who enjoys jotting down thoughts and ideas, OneNote can be a valuable tool in your digital arsenal. While OneNote provides numerous features that enhance productivity, users have long desired a OneNote Find and Replace feature – the ability to search for and replace text within their notebooks. This feature, commonly found in other Microsoft apps like MS Word and Excel, is not directly available in OneNote. However, there is a workaround that can prove to be immensely helpful.
In this article, we will explore the process of finding and replacing text in OneNote, providing you with step-by-step instructions and helpful tips along the way.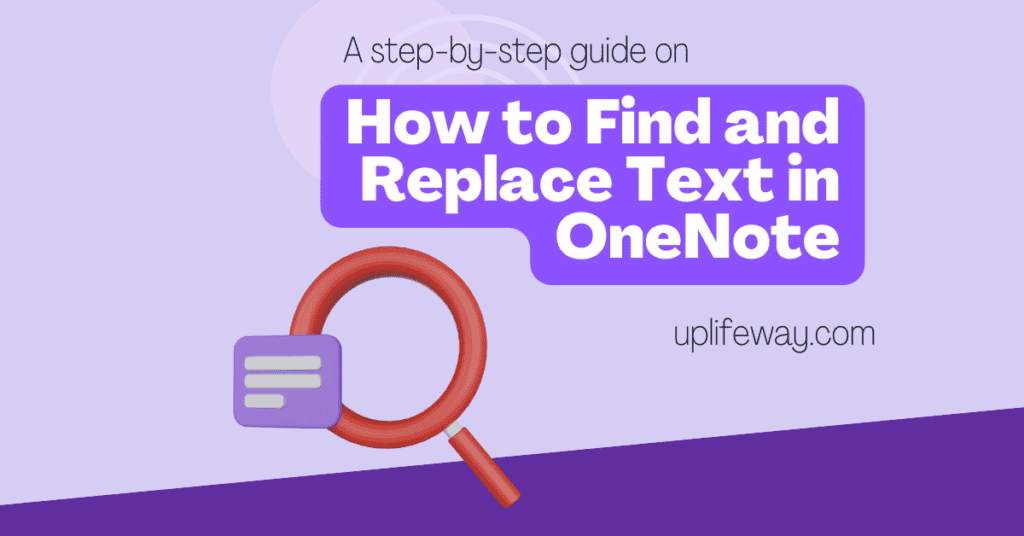 Why Would You Need the Find and Replace in OneNote
Finding and replacing text in OneNote can be a helpful way to edit your notes. It can help you in the following ways:
Error correction: Typos and errors are inevitable, especially when working with large amounts of text. OneNote's 'find and replace' feature allows you to identify and rectify such errors effortlessly. Instead of manually searching for each occurrence of an error, you can simply replace it with the correct text.
Updating information: Keeping your notes updated is essential as information evolves or changes. The "Find and Replace" feature enables you to quickly update outdated information with new content, ensuring the accuracy and relevance of your notes.
Consistency: When working on extensive projects or collaborative notes, it's crucial to maintain consistency in terminology or information. The find and replace onenote feature ensures that you can easily update all occurrences of a particular term or piece of information throughout your notebooks, ensuring accuracy and uniformity.
Time-saving: With the ability to search and replace specific text, users can quickly locate instances of a particular word or phrase within their notes. This saves valuable time that would otherwise be spent manually scanning through numerous pages or sections.
How to Use Find and Replace in OneNote
OneNote lacks a dedicated find & replace feature, similar to Word and Excel. However, a workaround allows us to utilize the "Search" function and replace specific words or texts using keyboard shortcuts. While this method may not be as efficient as the traditional "Find and Replace," it is still effective and serves the purpose within a reasonable timeframe.
Let us now implement this step-by-step:
Step 1
At first, type the replacement text in an empty space (or on a blank page) that you want to use. For example, you want to replace the word 'ipsam' with the correct spelling, 'ipsum'. So, type ipsum in an empty space.
Step 2
Select the text you just typed ('ipsum' in this example) and press Ctrl+X to cut it to your clipboard.
Step 3
Go to the OneNote page where you would like to use find and replace.
Step 4
Open the search box by clicking the magnifying glass icon in the upper-left corner. Alternatively, you can use the keyboard shortcut Ctrl+F.

Step 5
In the search box, type the text you want to find.
Step 6
Set the search scope from the filter icon on the right of the search bar. Usually, it will be "Current Page: Page name".

Step 7
Hit 'Enter' or 'Return' to commence the search.

Step 8
In the Search Results pane at the bottom of the search, click the first search result to jump to the page where OneNote has highlighted the text it has found.
Step 9
On the page, double-click each highlighted occurrence of the text, and then press Ctrl+V to paste your replacement text (which you have copied to your clipboard at step #1) over it.

Step 10
Repeat steps #8-9 for each additional occurrence in the search results list to replace them all one by one.
Watch this video tutorial on find and replace in OneNote for more clarity.
Quick Tip!
After Replacing a Word or Phrase in a Sentence, Remember to Add a Space! You can actually copy the text with a space to your clipboard at the very beginning. This will save you hitting an space every time you paste the text.
Also recommended for you: Recall Email Feature is Not Available on Outlook for Mac – Here's a Workaround That Works!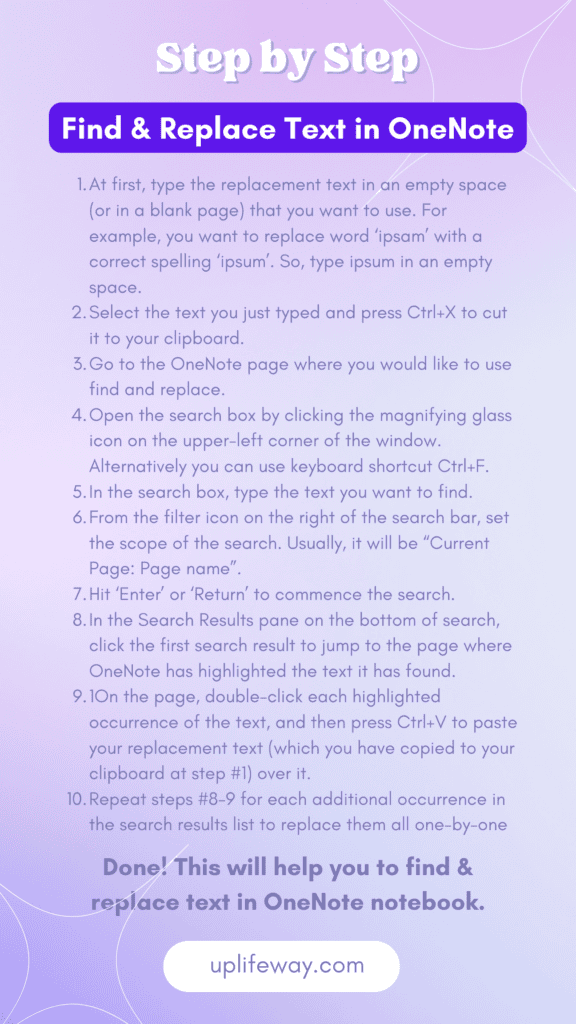 Conclusion
Finding and replacing text is a powerful tool for efficiently organizing and updating your write-up. Though there is no built-in feature in OneNote, with the workaround we shared in this article, you can quickly locate specific text within your notes and easily make necessary changes. Remember, mastering the art of finding and replacing text in OneNote takes practice. As you become more familiar with the application and its search capabilities, you'll become more efficient in managing your digital notes. Happy note-taking and organizing!
FAQ
Does OneNote have find and replace?
OneNote has no built-in find and replace functionality like Microsoft Word and Excel. However, a clever workaround can help you achieve the result, though it involves a few more steps. for this, you need to search the text you need to replace using the search box, and then double click on each search result and Ctrl+V to replace using already copied text in the clipboard at the beginning. Here is a video tutorial for the entire process: https://uplifeway.com/humix/video/u8akXJI7YRu
Can you find and replace in OneNote?
Yes, you can find and replace texts in OneNote. However, OneNote has no built-in find and replace functionality like Microsoft Word and Excel. You need to do this with a workaround. Here is a video tutorial for the find and replace function in OneNote:
https://www.youtube.com/watch?v=v9hbm2YvVyY
Hello! Welcome to UplifeWay.com, where I, Rifat Hossain, share my zeal for all things tech. With an academic foundation in Advanced Engineering Management and my current role as a Digital Services Manager at Coats, I've gained a unique perspective on technology in the professional landscape. My expertise with Microsoft 365 products, fortified by my certification as a trainer, has shown me the transformative power of the right tools in boosting efficiency and productivity. Driven by a desire to empower others to fully utilize technology, I established UplifeWay.com. This blog is more than a resource—it's a beacon for those eager to master Microsoft Office applications and improve their digital literacy. UplifeWay.com is a testament to my dedication to promoting 'smart working'. I invite you to embark on this exciting exploration with me, where we'll elevate our working prowess to unprecedented levels. Let's journey into the world of smart productivity together on UplifeWay.com.