Master the Art of Business Communication: 7 Tips to Write & Send Better Emails
Key Takeaways
Mastering the art of email writing can transform your business communications and drive success. This article offers 7 practical tips and tricks that will help you construct more effective, professional and persuasive emails. Your relationship with clients, partners, and team members can greatly improve by enhancing your email writing skills.
Email has become the go-to communication method in today's fast-paced business world. Whether you're communicating with colleagues, clients, or potential employers, knowing how to write professional emails that effectively convey your message is essential. However, not everyone can craft clear, concise, and impactful emails. In this blog post, I will share 7 practical tips to help you master the art of business communication and write better emails. From understanding your audience to perfecting your subject line, these tips will help you communicate more effectively and succeed professionally.
So, let's dive in and discover tactics to write and send better emails that leave a lasting impression!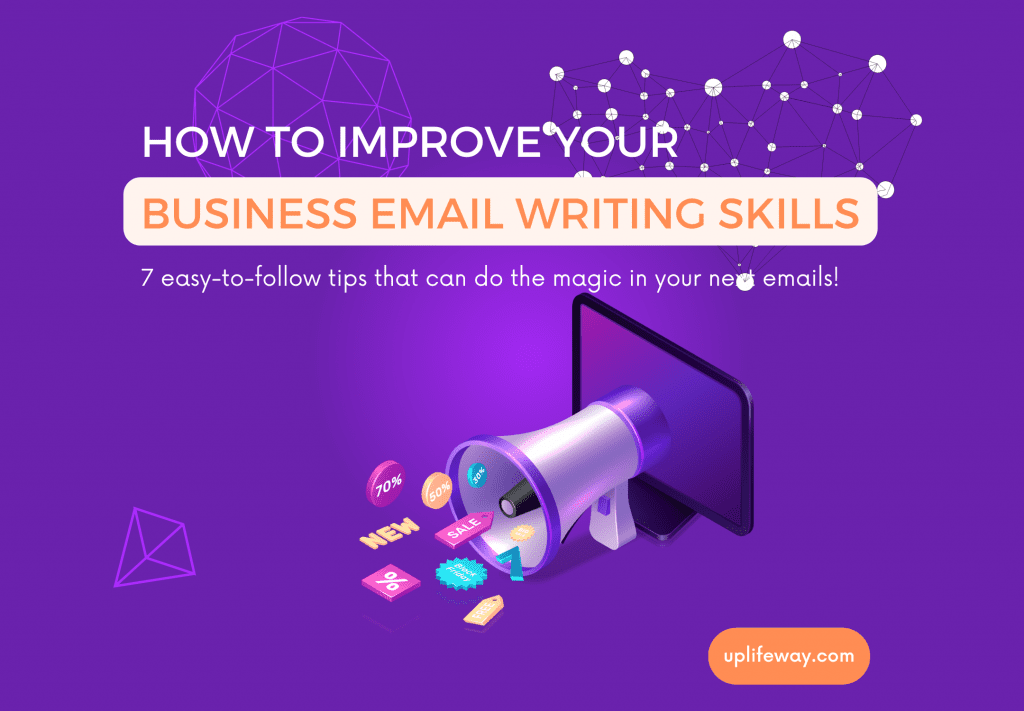 Writing & Sending Better Emails – The Pillar of Effective Business Communications
Email is one of the most essential communication tools in business. There are 4 billion email users who send and receive hundreds of emails daily. But just because everyone uses email doesn't mean everyone knows how to write an effective business email. Knowing how to write and send emails effectively ensures your message is delivered correctly. A poorly written email can be misinterpreted, confusing, or even offensive, which can cause confusion and potentially damage relationships. Ultimately your professional reputation will suffer.
On the contrary, effective email communication can help you build relationships with clients, colleagues, and vendors. It's a reflection of your professionalism, and it can help you stand out in a crowded job market.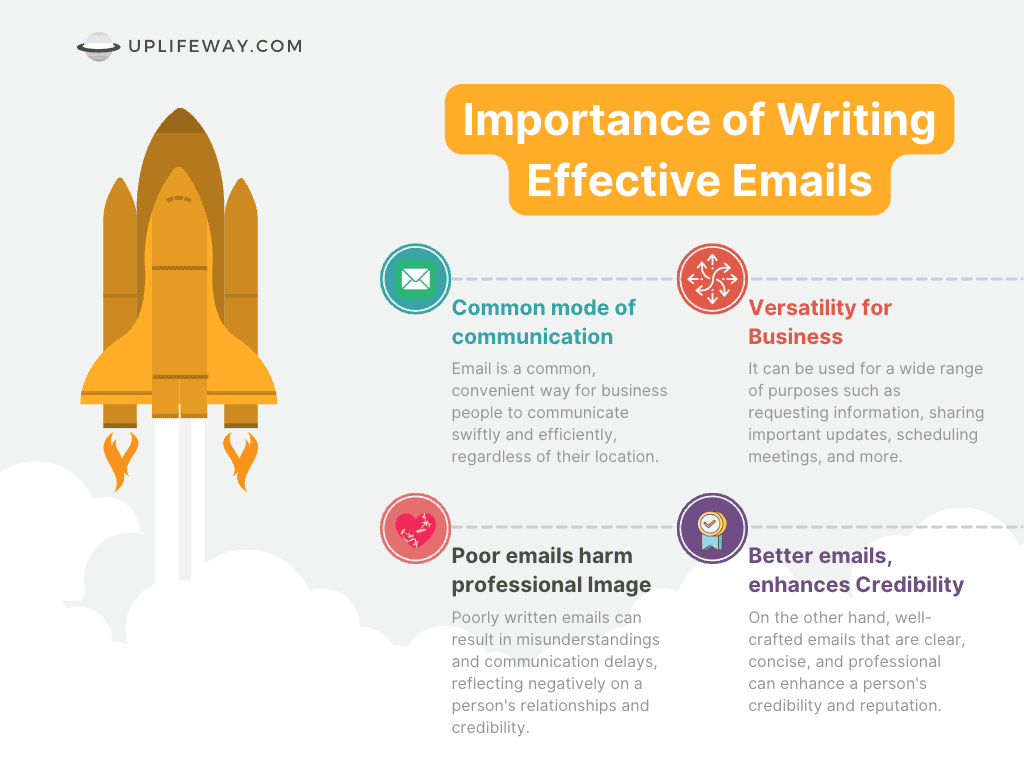 7 Tips to Write and Send Better Emails

Download this business and professional writing basic guide in pdf format:
1. Define the Purpose and Audience of your Email
Before you start writing an email, you need to define the purpose of your message. What do you want to achieve by sending this email? Are you requesting information, confirming a meeting, or following up on a previous conversation? Defining the purpose of your email will help you stay focused and ensure your message is clear. Moreover, you must remember to whom you will send this email: is it your boss, coworker, vendor, or customer? This will help you tailor the language and content of the email appropriately. For instance, if your company is experiencing a shortage of raw materials that could affect delivery times, you need to manage customer expectations without revealing the internal crisis. However, you can openly discuss the situation with your boss or coworkers.
2. Use a Clear and Concise Subject Line
The subject line is THE important piece of the entire email. The subject line should give the recipient an idea of your email. A clear and concise subject line can increase the chances of your email being opened and read. Avoid using vague or generic subject lines like "Meeting" or "Hi." Instead, use a descriptive subject line that summarizes the content of your email. Read this article on how to write subject lines in professional emails – best practices with examples to know more about the topic.
3. Keep your Message Short & Easy-to-Read
It's no secret that we live in a fast-paced world, and that extends to the way we communicate with each other. We are constantly bombarded with emails, texts, and instant messages. As a result, we've become accustomed to getting our point across quickly and efficiently. This is especially true when it comes to business emails. 
Business email is a common form of communication in the workplace; it's essential to ensure that your emails are clear, concise, and to the point. After all, nobody wants to wade through a long, rambling email – especially if they're trying to get work done!
One of the top reasons your email isn't getting read is because it is too long!

Craig Jarrow
Here are a few tips to help you improve your business email writing skills:
A. Keep it short
As I mentioned, people are busy and don't have time to read a novel-length email. Get to the point quickly and be as concise as possible.
B. Use short paragraphs
When delivering a long message, break it down into small paragraphs. There is no hard and fast rule about paragraph length. But keeping your paragraphs short when writing emails is generally a good idea. This makes your email easier to read and more likely to hold your reader's attention.
C. Use bullet points
When you have a lot of information to include in your email, bullet points are also a great way to organize your thoughts and make your email easy to skim through.
Continue reading this post to learn more: How To Keep Your Emails Concise And To The Point | 10 Must-know Tips for Young Professionals!
4. Use a Professional Tone & Simple Language
Your email should be professional and formal. Avoid using slang, abbreviations, or emojis. This is the general rule though there could be exceptions. Use proper grammar and spelling, and avoid using all caps or excessive punctuation. Remember, your email is a reflection of your professionalism, so it's essential to take the time to craft a well-written message.
Pro Tip!
You can use tools like Grammarly to protect your email free of spelling and grammatical mistakes.
Use simple language, short sentences, and familiar words. This will make your emails easy to read and understand.
Pro Tip!
Try out Quilbot, an AI-powered paraphrasing tool that can enhance your writing.
Avoid jargon or complicated terminologies if you are not 100 percent sure the reader will understand them. People are more likely to read and act on your message when you use more straightforward language.
Use a persuasive tone. Whether you're asking someone to sign a contract or trying to sell them a product, using persuasive language can be a helpful way to get the result you're looking for.
Some of the most effective persuasive techniques you can use in your emails include:
Making offers:
"If you buy now, you'll get a free shipping."
Asking questions:
"Wouldn't you like to try our new product?"
However, it's important not to overdo it with persuasion. If your email has too many persuasive techniques, it may look like a scam. Use persuasive language only when it feels natural.
Always use positive language. When you use positive language, you make a good impression and build rapport with the people you are writing to. Besides, positive language can make your emails more effective by making them sound friendly and polite.
Here are some tips for communicating a negative situation with positive language in your emails:
Not correct
"This will be difficult"
Correct
"This will be challenging."
Correct
"I'm confident that," or 
"I'm sure that," or 
"I believe that."
 If you need to criticize, people do it in a way that will not offend that person. For example,
Don't say,
"You didn't do X," 
rather, say,
"I appreciate your efforts, but I think we should try doing X."
don't say,
"You should be careful of these mistakes in future"
rather, say,
"This is an improvement area for you in the future."
Mary Cullen has shared some great examples of positive language in business writing.
Basically, using a professional tone with simple and positive language is the science of strong business writing.
5. Include a Call to Action
Your email should include a call to action that tells the recipient what you want them to do. Whether you're requesting a meeting or asking for feedback, be clear about what you're asking for. Include a deadline if appropriate, and make it clear to the recipient about 'Who', 'What', and 'When'.
Subject: Invitation to Participate in Our Survey

Dear valued customer,

We hope this email finds you well. We at XYZ Corporation are committed to providing our customers with the best possible experience, and to achieve this goal, we need your help.

We are conducting a survey to better understand your needs and preferences, and we would greatly appreciate it if you could take a few minutes to participate. Your feedback is essential to our continued improvement and growth.

To participate in the survey, please click on the following link: [Insert Survey Link Here]. The survey will take no more than 10 minutes to complete, and all responses are completely confidential.

As a token of our appreciation, we will be offering a 10% discount on your next purchase for completing the survey. The discount code will be emailed to you upon completion of the survey.

Thank you in advance for your participation, and we look forward to your feedback.

Best regards, [Your Name]

CTA: Please click on the following link to participate in the survey: [Insert Survey Link Here].
6. Use a professional email signature
Use a signature that tells people how to reach you. This will make it easy for the people who get your message to contact you if they need to. Most businesses offer custom email signatures with the company logo and all. Use that correctly if you are part of such a business. But if you have the opportunity to create your own, you can do so easily using different online tools.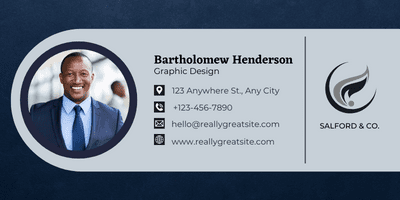 Canva has shared some tips to create stunning email signatures and a few free templates.
7. Proofread Your Message
Before you hit send, take the time to proofread your message. Check for spelling and grammatical errors, and make sure your message is clear and concise. Read your email aloud to catch any awkward phrasing or mistakes. Remember, you can't return your message once you hit the 'Send' button.
Conclusion
Email is crucial to doing business, whether communicating with clients, coworkers, or others in your professional network. It is imperative to ensure that your messages are professional, as they represent you! I hope this basic guide will take your business and professional writing to the next level!
Hello! Welcome to UplifeWay.com, where I, Rifat Hossain, share my zeal for all things tech. With an academic foundation in Advanced Engineering Management and my current role as a Digital Services Manager at Coats, I've gained a unique perspective on technology in the professional landscape. My expertise with Microsoft 365 products, fortified by my certification as a trainer, has shown me the transformative power of the right tools in boosting efficiency and productivity. Driven by a desire to empower others to fully utilize technology, I established UplifeWay.com. This blog is more than a resource—it's a beacon for those eager to master Microsoft Office applications and improve their digital literacy. UplifeWay.com is a testament to my dedication to promoting 'smart working'. I invite you to embark on this exciting exploration with me, where we'll elevate our working prowess to unprecedented levels. Let's journey into the world of smart productivity together on UplifeWay.com.